u11's Match Report:  21st March 2015
The Under 11s for Kings Lynn Roller hockey club played three games at the tournament in Sudbury on Saturday 21st March.
With 6 players playing that day, everyone put in a 100% and played excellently.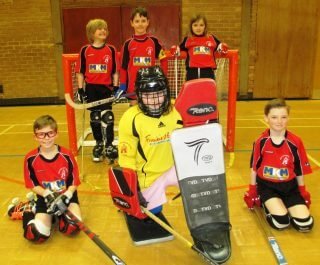 The team were not disheartened after they lost their first game 10-3 to Sudbury. The Sudbury team were strong, but Kings Lynn gave them a good fight. Keaton Vincent and Joshua Futter scored the goals in this match.
The 2nd match against Cambridge was played as a friendly due to the age of the Cambridge goal keeper. It was not an easy match and King's Lynn worked hard to win 3 – 1. Joe Crawford played superbly in  defence during this game and played a major part in this win. Ria Griffin scored two of the goals and Joshua Futter scored a goal.
The last game was literally hair raising against Letchworth.
This was one of the hardest teams to beat and Kings Lynn did it 4 – 3. Miles Hovell stopped many attacks from the centre line and with the rest of the team played an exemplary game showing great team work. Leena Futter also went an extra mile with a smile and saved many shots. What a end to a good day, the last seconds were counted out in unison.
Well done team!!
Next time it's a home match at Lynn Sport, Saturday 24th April.
The team would like to thank MKM for their continued support!
The Team:
Leena Futter (GK), Joe Crawford, Joshua Futter, Ria Griffin, Miles Hovell & Keaton Vincent