Premier League Match Report: 11th January 2015
Premier League Match Report: 11th January 2015
RHC Invicta 1 – 10 King's Lynn RHC
The second game of the weekend followed on the Sunday morning. This time a trip to Invicta at the bay arena awaited. Following an overnight stay at a local premier inn, the boys were fresh and ready to go in the match.
The game started in a possession based way with the away side having most of the ball due to the home side coming out in a well organised box formation. The time passed and Lynn soon found themselves in a position they did not want. A quick lapse in concentration resulted in a counter attack for the home side, leaving senior keeper Daren Didcock no chance as it was well converted in to the back of the net to give Invicta a 1 – 0 lead.
After a timeout the team regrouped and decided on a different attacking method which soon paid off. Following an onslaught of shots which were well saved by the in form Invicta keeper, the breakthrough was finally made. A loose ball wasn't cleared well by the defensive side and Sam Kay then pounced. A second goal for Lynn was added in quick succession, some neat passing play around the area resulted in Jamie Griffin finding the net.
The game soon calmed down after the goals and it was all possession for Lynn. With not much luck in front of goal all that could be done was to keep working for the space and create the better opportunities. With just 53 seconds left on the clock of the first half, Ryan Barnes popped up in the penalty to grab his first goal of the season.
Half Time: Invicta 1 – 3 King's Lynn
Lynn began the second half in the same fashion as the first by being in full control. With only one minute on the clock, Josh Taylor scored his first goal of the game with a clinical breakaway. The time passed and the score kept increasing, with Josh Gay dominating proceedings in our defensive zone, and soon it was 6 – 1 to the away side. The next goal was possibly the goal of the game with Jamie Griffin combining well with Michael Carter to exchange passes from one end to another and finishing with a powerful drive to the top corner of the net. Once again a few more goals followed with no reply from the home side and eventually the team took a 10 – 1 win to round off a solid weekend of hockey.
The two games over the weekend have been a success for King's Lynn's side with maximum points being achieved. It was the perfect way for a side to begin the new year and hopefully press on with what could be a successful season for the club.
The next two games in the calendar will be a real test for the side with Letchworth RHC and Bury RHC being the opponents at the end of the month.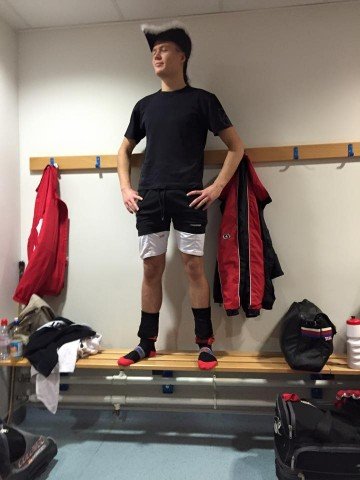 Goalscorers:
Ryan Barnes (1)

Jamie Griffin(1)

Sam Kay (1)

Josh Taylor (3)

Michael Carter (4)
Man of the Match:
The Team:
Daren Didcock (GK), Will Martin (GK)
Ryan Barnes, Michael Carter, Josh Gay, Jamie Griffin, Sergio Hutson, Sam Kay & Josh Taylor (C)
Coach:
Chris Kay