Peterborough Home Tournament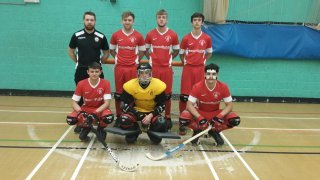 Kings Lynn A team started the day in second place of the ECRHA League Division 1. The team were already missing captain Josh Taylor as they were last tournament and now Kasia Parfitt one of the goalkeepers was also out with soft tissue damage. The rest of the team were there including Matt Baker who had to play in a mask due to a broken nose.
The first game was agains the home side Peterborough, who were only two points behind Lynn in the league with the same amount of games having been played. It proved to be a tense affair as Peterborough started strongly and took the lead . Lynn equalised minutes later through Matt Baker and then grabbed the initiative with seconds to go before half time with a goal from Jack Tucker.
Half Time Score: Peterborough 1 – 2 Kings Lynn A 
Peterborough were soon level after the break and managed to stifle Lynn for a while. As the game came into the last five minutes, both teams were pressing hard and it was Lynn who took the lead through Matt. Peterborough pushed hard for an equaliser and with eleven seconds left they paid the price as Matt netted again. From the restart Owen Norris broke away to score for what was a flattering scoreline to a hard fought match
Final Score: Peterborough 2 – 5 Kings Lynn A 
Goal Scorers:
Matt Baker (3)

Owen Norris

Jack Tucker
Second game of the day was the crunch game against Soham. With Soham having beaten Lynn quite soundly in the last encounter, Lynn were looking to even up the score. It didn't start well as Soham were first to score. With both teams looking for an opening, it was Soham who again scored to hold a nice advantage at half time.
Half Time Score:  Kings Lynn A 0 – 2 Soham 
The second half started as a cagey affair, as neither side wanted to concede the first goal. Fortunately for Lynn, it was Josh Horn who scored first to close the gap. Then the goals came in a ding dong fashion as Soham increased their lead again and were pulled back to a single goal lead twice more with Jamie scoring either side of Soham. However it was to be Soham's day as they pulled away with two more goals to put them into prime position for the league championship.
Final Score: Kings Lynn A 3 – 6 Soham 
Goal Scorers:
Jamie Griffin (2)

Matt Baker
Having probably lost the league title, Lynn now had to secure points to ensure that they would finish runners up. Facing a Norwich team, who earlier in the week were not sure they could field a team, should surely have been a place to reset themselves. However Norwich were in no mood for letting Lynn have it easy and made it very tense. Lynn did open the scoring but Norwich soon replied to keep things tight. A strong defensive performance from Norwich was frustrating for the Lynn team who eventually took the half time lead through Josh Horn.
Half Time Score:  Kings Lynn A 2 – 1 Norwich
After strong words from Josh Taylor at half time, the team started to find their groove and broke down the Norwich defence. Once Lynn managed to breach the Norwich defence, the goals started to come and Lynn eventually came away with a comfortable win.
Final Score: Kings Lynn A 10 – 1 Norwich
Goal Scorers:
Jack Tucker (3)

Jamie Griffin (3)

Owen Norris (2)

Matt Baker

Josh Horn
Final game of the day for Kings Lynn saw them playing a Letchworth team who on the day were in good form themselves. Lynn probed away and were finally rewarded after about five minutes with two quick goals. A goal a piece from  both teams meant Lynn had a two goal cushion to take into the second half.
Half Time Score:  Kings Lynn A 3 – 1 Letchworth
With plenty of probing from both team and defences both holding firm it was Letchworth who scored to bring them back into the game. Coach Josh Taylor then made some tactical changes which proved rewarding. Letchworth would not score again, but Lynn managed to score four more themselves to finally see out their third win of the day.
Final Score: Kings Lynn A 7 – 2 Letchworth
Goal Scorers:
Matt Baker (3)

Jack Tucker (2)

Jamie Griffin

Josh Horn

The Team on the Day:
Josh Roberts (GK),  Matthew Baker, Jamie Griffin (c), Josh Horn, Owen Norris and Jack Tucker.
Coach:
Josh Taylor
Thanks to all involved with the team this season including sponsors 'Samueljacks T-Shirt Shop'.