Senior A Match Report: 24th January 2016
Colchester Home Tournament
The club's division one side visited Colchester in their latest outing where they faced a tough day. Having to play four games in the day with very little rest took its toll on the side over time.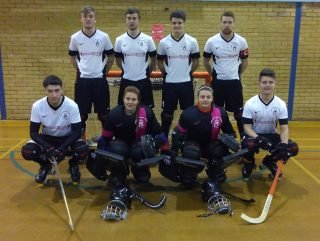 First game of the day was against a youthful Cottenham side. With plenty of upcoming talent this wasn't going to be an easy test for Lynn. With just over five minutes on the clock the break through was made by Lynn and a second shortly followed to make it 2 – 0 going into the half time break. With little to choose between the two sides in the  second half the game finished 3 – 2 in favour of Lynn.
Second game of the day was against the hosts, Colchester. This being an opportunity for the Lynn side to express themselves and work on a few set plays. Having grabbed a few early goals the team went into the half time break with a comfortable 5 – 1 lead. Into the second half and the game remained the same with Lynn having plenty of the ball. After building on their lead from the first half the game finished with an 11 – 2 win for the travelling side.
The third game of the day was against league leaders Soham. Having gone behind early on after conceding an unfortunate goal off the back wall, Lynn settled. Most of the possession was to be had by King's Lynn however they couldn't find a way past the Soham goalkeeper until the second half following a good piece of build up play. Now pressing to find a second goal to bring themselves level Lynn got caught on the counter and conceded a third goal of the game making the score 3 – 1 to Soham. This game wasn't to be and finished with an unfortunate loss.
Final game of the day was against Letchworth. A side with plenty of experience to cause problems to our side. From the outset Lynn were relaxed and played with freedom. It wasn't long before they found themselves in front after some solid play in attack and defence. Having continued to play in a confident way from start to finish Lynn ran out 8 – 4 winners on the day to secure their third win from 4 games on the day.
Overall a relatively good day for our side who experienced highs and lows at different points. With a couple of tournaments to play Lynn will be looking to build on recent performances.
The Team on the Day:
Kathryn Baker(GK), Kasia Parfitt(GK), Matt Baker, Ryan Barnes, Michael Carter, Josh Gay, Jamie Griffin and Josh Taylor©.