U15's Match Report: 8th April 2017
Kings Lynn Home Tournament
Kings Lynn under 15's were at home for their final Division Two tournament; where we played against Peterborough, Ely & Chesterton United (ECU), Skaters and Rickmansworth.
Kings Lynn first game of the day was against ECU which was a fast and exciting game from the start with both sides going for the win. However a strong Kings Lynn team were able to break down the ECU defence and score some brilliant goals from range and close in. Harriotte Dugdale had an outstanding performance in goal stopping ECU from getting on the score sheet.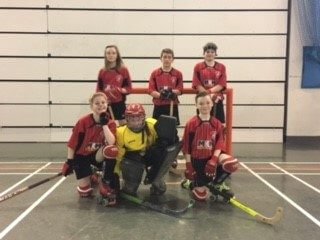 Final Score Kings Lynn 5 – 0 ECU
Goal Scorers:
Joseph 2
Harvey 1
Ria 1
Keaton 1
The next game was against Peterborough who got onto the score sheet first with a good goal and seemed to shock the Kings Lynn team. But this actually kicked Kings Lynn into gear and the team replied with two quick goals. Kings Lynn were then in full control with three more goals before the break.
The second half started with Kings Lynn grabbing a couple of quick goals from great passing and build up which seemed to take the wind out of Peterborough sails. Kings Lynn went on to score three more goals to and seal an important win. Kings Lynn were well lead by their Captain Joseph Hawes; who's leadership motivated each member of the team on trying to score but also defending their own goal in a tough game.
Final score Kings Lynn 10 – 1 Peterborough
Goal Scorers:
Joseph 5
Harvey 4
Miles 1
Third game of the day was against Skaters who had a strong team. This was another exciting game to watch with both sides going for the win but Kings Lynn were able soon gained control with Harvey Dugdale scoring a cracking goal from distance which lifted the team and kept Skaters at bay.
Final Score Kings Lynn 4 – 1 Skaters
Goal Scorers:
Joseph 1
Harvey 1
Miles 1
Ria 1
Fourth and final game of the day was against Rickmansworth.  Kings Lynn went out knowing they had won the league but did not let this go to their heads.  They went out and played as normal with every member of the team passing and trying to score. Myah Easter was brilliant in defence and was unlucky not to score a few times.
Final Score Kings Lynn 8 – 0 Rickmansworth
Goal Scorers:
Joseph 4
Harvey 3
Miles 1
Overall, a solid performance from the Kings Lynn U15 side, who finished the tournament as champions and unbeaten for the whole season.  Every member of the team played amazingly and should feel so proud of themselves. It was a pleasure and delight to manage the team and a big well done from me (Gary Chenery) plus a big thank you to families and friends who came to support the team.
I would also like to thank MKH building supplies Ltd for their continue support
Team on the Day:
Harriotte Dugale (GK), Harvey Dudale,  Myah Easter, Ria Griffin, Joseph Hawes (C), Miles Hovel & Keaton Vincent