u11's Match Report:  Saturday 9th January 2016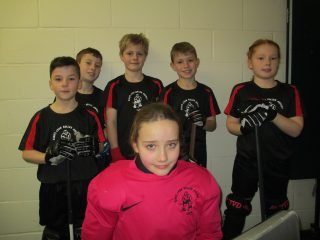 On Saturday 9th January the KLRHC U11's team played a tournament at Soham. They had three games in total, of which one was a friendly.
The first team Lynn played against was Ely A. Lynn lost the game 4 – 2, with one of the goals scored against us coming from a penalty. Leena Futter defended her goal brilliantly, but the team had a rocky start to the day. Miles Hovell and Alfie Poppy scored Lynn's goals in this game. Still they kept on fighting against a fast team.
After a two game break Lynn played a friendly against Letchworth. They have played this team before and the game was very good although Lynn lost in the end 3 – 2. Ryan Hulcoop and William Dickerson played excellently positioning themselves really well in the rink by reading the game play. The two goals were scored by Miles Hovell and Alfie Poppy again though.
The very last game of the day was Lynn against Cambridge. A team Lynn had not played against this season. Lynn pulled themselves together as a team and won the game 4 – 3, with the winning goal scored by Lacey Vincent, her debut goal in U11's. Miles Hovell scored two and Alfie also a goal in this game. A really good finish to the day that had started a little unsettled.
Well done team!
Keep playing the same way you played in the last game at our next tournament at home, Alive Lynnsport on Saturday 12th March.
The team would like to thank MKM for their continued support!
The Team:
Leena Futter (GK), William Dickerson, Miles Hovell (C), Ryan Hulcoop & Alfie Poppy & Lacey Vincent
The league table with the results of this tournament can be seen on the ECRHA website