Premiership Report:
Halifax RHC v King's Lynn RHC
King's Lynn RHC were on the road for their latest fixture which took place in Halifax against a side capable of causing problems for the visitors.
This game started brightly with Lynn dominating the early exchanges and quickly getting into their groove. It wasn't long before the score was opened through Jack Tucker with a neat wrap around.
The goals were soon flowing freely shortly after and Josh Taylor found himself bagging five goals in as many minutes to take the score to 6 – 0. With the away side now trying to regroup they grabbed themselves a goal of their own after a blip in the away defence. The game then began to turn into a scrappy affair with Lynn not playing their own way. After a short amount of pressure Lynn soon found themselves finding the net once again, Jack Tucker getting his second of the game and Sam Kay following up to add to the scoring to make it 8 – 1 going into the half time break.
Half Time Score: Halifax 1 – 8 King's Lynn RHC
Into the second half and Halifax had the upper hand for the majority of the opening 10 minutes pulling a couple of goals back in quick succession. This rattled the away side who knew they needed to regain their composure and begin to play the way they did in the first half of the game. After a good spell of possession it wasn't long before the home side were picking the ball from the net again. A well rehearsed move led to Jamie Griffin striking to open his account for the season. Lynn soon settled once again and began to play their own way and made the home side pay once again by finding the net through Michael Carter with some individual play. Despite Halifax grabbing another back, they soon clocked up enough team fouls to give the away side an opportunity from a direct free hit. Josh Gay stepped up and finished well having completely taken the goalkeeper out of the game.
Final Score: Halifax 4 – 11 King's Lynn RHC
The Team:
Will Martin(GK), Matt Baker, Michael Carter, Josh Gay, Jamie Griffin, Sam Kay(VC), Josh Taylor©, Jack Tucker
Coach:
Chris Kay
On a whole this was a solid performance from King's Lynn which meant they continued their good run of form.
Thanks again to our sponsors 'Samuel Jacks T-Shirt Shop' & 'Carter Engineering Supplies' for your continued support on and off the rink.
Thanks to our sponsors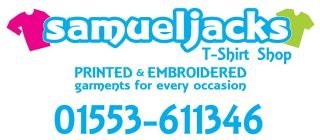 Next up in the league is Soham RHC on Saturday 27th February from 7pm at Alive Lynnsport (Free Entry)