EC Division 1 Match Report: 2nd October 2016
Soham RHC Home Tournament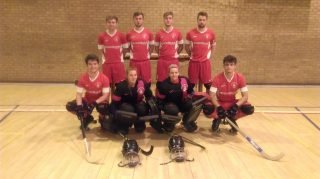 The King's Lynn Senior A team stepped out onto the rink for the first time following the summer break at Soham RHC's home tournament and faced teams from Cottenham, Ely  & Chesterton Utd and then Soham RHC.
The first game of the day was against a young and relatively inexperienced side from Cottenham. After taking an early lead and pressing to put goals on the board, the King's Lynn team soon began to play a possession based game and looked to create team goals. After a dominant performance which saw every player find the net at least once and the two goalkeepers keep a clean sheet.
The final score was Cottenham 0 – 12 King's Lynn.
The second game of the day was against an Ely side who had gained promotion from Division Two last season. The Ely team had merged with Chesterton over the summer to create Ely  & Chesterton Utd. The game started well for King's Lynn as they grabbed a few early goals to settle themselves into the game nicely. Again playing the ball nicely resulted in some neat team goals finding the net. On this occasion the teams defence wasn't as strong as the first game and the team unfortunately didn't help the goalkeepers out on many occasions resulting a couple of goals being conceded.
The final score was E.C.U. 2 – 9 King's Lynn.
Third and final game of the day was against least season's Division One Champions Soham RHC. In a game that started in an even manner it was King's Lynn who were first on the score sheet after some poor discipline from Soham which led to a direct free hit. A second goal soon followed after some individual play to find a gap from a clinical move behind the goal. King's Lynn now with a Two goal lead controlled the game and it wasn't long before a 3rd goal was added to the board. This time a swift counter attack caught the keeper off guard.
The second half was well controlled. However after a slight dip in concentration, Soham pulled a goal back to set up a nervy end to the game.
The final score was Soham 1 – 3 King's Lynn.
A solid start to what promises to be an interesting and long season, with all players and goalkeepers contributing to what was a successful start.

The Team on the day:
Kathryn Baker (GK), Kasia Parfitt(GK),  Matthew Baker, Ryan Barnes, Josh Gay, Jamie Griffin, Josh Taylor © and Jack Tucker.
Coach: Michael Baker
All the results for the day can be seen on the ECRHA website