Premier League 10th June 2017
King's Lynn RHC v Soham
Kings Lynn RHC premier League team took on Soham RHC in their penultimate fixture of the season. After retaining the premier league title the previous weekend Lynn were looking to end the season on a high.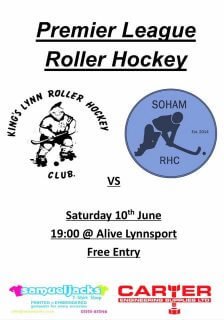 The game began defensively for both sides with Lynn seeing plenty of the ball. Their possession soon paid off when the first goal came from Josh Taylor shooting past the unsighted Soham goalkeeper. Despite an early lead Soham soon had a goal of their own to draw the game level. At this point Lynn lost their way and soon found themselves on the back foot and allowed Soham to play the game plan they had planned which got them a further two goals on the board to gain a healthy lead. After calling a timeout to regroup Lynn went back out and even though they had more possession they couldn't find a way through the resilient defence of the visitors. Soham then picked up a further two goals from the counter attack and were in control of the score line until half time.
Half Time Score: Kings Lynn RHC 1 – 5 Soham
Second half began and the hosts had it all to do. An early goal from Josh Taylor lifted the spirits of the home support and then Sam Kay added one of his own to bring the game to within two goals. Lynn began to take more risks and in doing so allowed Soham to counter attack once again and score their sixth of the game. After the goal Soham sat back and defended their lead. Lynn were pushing but couldn't break the travelling side down after they pulled their defence in even more. A third of the game for Josh Taylor from a direct free hit gave Lynn a glimmer of hope but wasn't enough to give the home side the comeback they were after. After testing the Soham keeper on a number of occasions it just wasn't to be and Soham were eventual 6 – 4 winners against the league champions.
Half Time Score: Kings Lynn RHC 4 – 6 Soham
A poor first half performance from Kings Lynn effectively destroyed any hopes on winning the game and they fell to only their second defeat of the season.
Thanks to the timekeepers and helpers on the evening of the game and to those who turned out in numbers to watch this exciting fixture.
Team on the Day:
Kasia Parfitt (GK), Matthew Baker, Ryan Barnes, Michael Carter, Jamie Griffin, Sergio Hutson, Sam Kay, Josh Taylor (C) and Jack Tucker.
Coaches:
Chris Kay and Michael Baker
Our Final Premier League Fixture of the Season: Soham @ Lynnsport on the 10th June 7:15pm
Many thanks to our sponsors SamuelJacks T-Shirt Shop and Carter Engineering Supplies for the ongoing support of the team