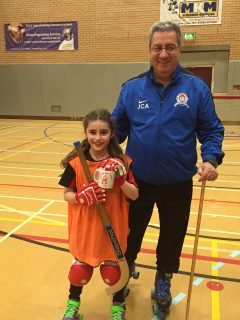 Player of the Month: February 2016
Congratulations go to 10 year old Poppy Cooper,  who has been nominated as Player of the Month for February 2016.
Poppy was presented with a Medal and a mug which had her Name & Photo printed on it along with the club logo.
The Mug was supplied by club sponsors Samueljacks.
Poppy is pictured with the England's National Coaching Director Carlos Amaral.
The club coaches decide who deserves the award every month based on various contributing factors including:
Commitment
Attitude towards learning
Behaviour