U13's Match Report: 12th February 2017
Rickmansworth Home Tournament
Kings Lynn under 15's team remain unbeaten and at the top of ECRHA Division 2 after travelling to Rickmansworth at the weekend for a tournament, where they played against Rickmansworth RHC, ECU and Skaters.
Kings Lynn had to change their usual game play due to the slow playing surface of the pitch. Instead of the fast pace passing and hard shooting game, the team had to up control of the game with slow build up passing to get in position in front of goal to score with flicks and chips at close range. Kings Lynn were well lead by their Captain Joseph Hawes, who's leadership helped each member of the team get on to the score sheet and made sure his team defended their goal with only one goal being conceded.
Reserve goalkeeper Imogen Senter had to step in for Kings Lynn's regular goalkeeper, who is away on England duty and had an amazing tournament. She kept her cool to save a penalty against ECU and only conceded one goal in the three matches.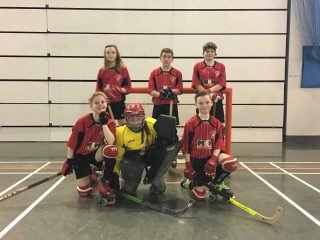 Match 1: Kings Lynn 6 – 1 Rickmansworth
Goal Scorers:
Keaton 3
Miles
Joseph
Ria
Match 2: Kings Lynn 6 – 0 ECU
Goal Scorers:
Match 3: Kings Lynn 9 – 0 Skaters
Goal Scorers:
Myah 3
Miles 2
Joseph 2
Keaton
Ria
The club would also like to thank MKM building supplies Ltd for their continue support
The Team on the Day
Imogen Senter (GK), Myah Easter, Ria Griffin, Joseph Hawes (C), Miles Hovel,  Keaton Vincent