u11's Match Report:  7th November 2015
This season's U11's team consists of many new players at KLRHC and kicked off the season in their first tournament, held at Soham on Saturday 7th November.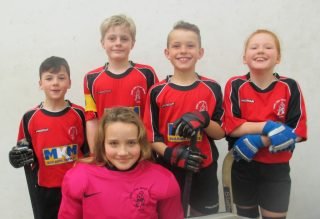 Their first game against Letchworth was fabulous. The team played like they'd been playing together for years even though they had two brand new team mates.  Lacey Vincent made her debut in the U11's league and got stuck right in. The game ended in a 0 – 0 draw, but most of the game was played at the Letchworth end of the rink.
Ely B were their opponents for the second match of the day and King's Lynn won 7 – 0. Miles Hovell scored two goals leading the team as captain. Ryan Hulcoop joined KLRHC U11's this season and scored four goals in this game, showing his experience and determination. Alfie Poppy was the other goalscorer against Ely B.
By the third match of the day, the team were starting to tire. The team didn't have any substitutes for the tournament, so everyone played with no breaks in all four games. Unfortunately the tiredness showed in their game against Ely A and King's Lynn lost 5 – 3. Leena Futter was superb in goal saving multiple shots and keeping Ely A at bay. Miles Hovell worked on pulling his team together and scored one goal. Ryan Hulcoop also added to the scoreline with two more goals for King's Lynn.
The final match of the day King's Lynn was against Herne Bay, a tough team to face even when ready for it. King's Lynn called on literally their last resources and gave Herne Bay a tough fight though final losing by a very respectable 8 – 0. Alfie, Miles and Ryan managed multiple shots at Herne Bay's goal, but unfortunately their goalie was on form. Leena also worked very hard in goal to help keep the scoreline down.
A special thanks to Lacey Vincent for sticking with the games the whole day.
All in all a good day even though some games were lost. We're all very proud of the team!
The team would like to thank MKM for their continued support!
The Team:
Leena Futter (GK), Miles Hovell (C), Ryan Hulcoop,  Alfie Poppy & Lacey Vincent
The league table with the results of this tournament can be seen on the ECRHA website