u15's Red Match Report: 25th January 2015
u15's Red Match Report: 25th January 2015
King's Lynn's first game against Rickmansworth was tough and testing game due to the surface of the rink. High speed quick attacks were replaced with a slow and tactical approach. The team demonstrated some excellent passing and had numerous shots on goal.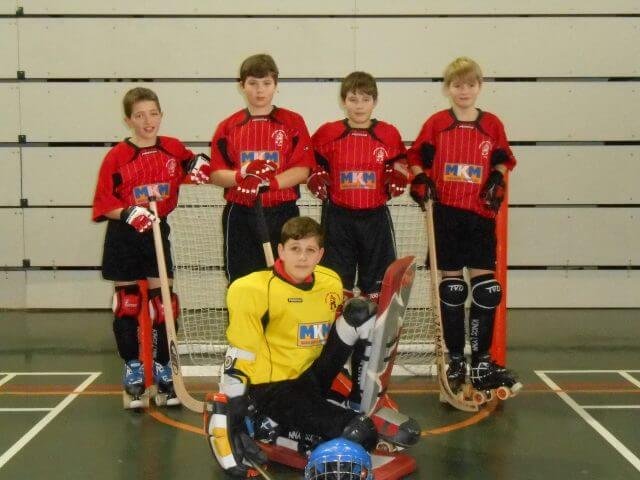 Rickmansworth played a very defensive game and only made a few counter attacks which were excellently defended by the whole team.
Final score: Rickmansworth 0 – 0 King's Lynn Red 
The second game against a stronger and older Letchworth team was thrilling to watch. King's Lynn worked hard and did not give up until the final whistle was blown. Goals from Ethan, Joseph and Finlay were all the result of excellent passing and good manoeuvres past the opposition before taking shots at goal. Jason and Joseph demonstrated some good man-marking, preventing their stronger players from taking slap-shots at goal. Joseph showed great courage having sustained a head injury in a match the day before and managed to score a goal from the half way line. With no substitutes, King's Lynn began to tire and Letchworth took the lead.
Final score: King's Lynn Red 3 – 9 Letchworth.  
The third game against King's Lynn Black was also a very exciting game, with both teams showing great team spirit and respect for each other, yet hungry to score. King's Lynn Red demonstrated some excellent man-marking, defending and counter-attacks.  Ethan scored the Red's  only goal of the game,  which was scored after a tactical build up from their own goal area.  The team's demands of attack and defence were well managed by Finlay (captain), who kept his team motivated to the final whistle. Yet again, Josh showed a solid and outstanding performance in all games, diving in all directions to keep the ball from entering our goal.
Final score: King's Lynn Red 1 – 8 King's Lynn Black 
The Team:
Joshua Roberts (GK) | Jason Gay | Finlay Griffin (c) | Joseph Hawes | Ethan Shread