u11's Match Report:  12th February 2016
u11's Match Report:  12th February 2016
Debut tournament for Lynn's youngest players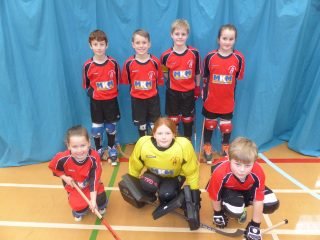 An exciting debut, home tournament took place on Saturday 12th March, for Lynn's Under 11's.  The young team welcomed Nancy Rutty (6) and Aaron Grant (9) in their first appearance for the club.  Additionally it was Lacey Vincent's (8) debut game as Goal Keeper.
The team was not disheartened after they lost their first game 3 – 7 to Peterborough.
In their second game, the team came back fighting.  William Dickerson and Imogen Senter worked well together forming a solid defence creating opportunity for Miles Hovell and Alfie Poppy to score. Beating Cambridge 5 – 3
Despite the persistence of the home side, in a nail biting third game, the strong Herne Bay team clinched the winning goal in the final few minutes.  Resulting in a 3 – 4 loss for Lynn.
The team's final game of the day was played as a friendly due to the ages of some of the opposing players.  The experienced Ely team took an early lead, with the score 0 – 3 at half time.  However, Lynn battled relentlessly with Miles netting 2 fantastic goals in the second half.  Unfortunately Ely took the game with a final score 2 – 4.
The team would like to thank MKM for their continued support!
Thanks to everyone who helped out on the day
The Team:
Lacey Vincent (GK), William Dickerson, Aaron Grant, Miles Hovell, Alfie Poppy, Nancy Rutty &  Imogen Senter,