Premiership Report: 12th December 2015
Premiership Report:
King's Lynn v Herne Bay United
Kings Lynn RHC played host to Herne Bay United in their second meeting of the season. After losing out in the first game Lynn were hoping to bounce back and get their season back on track.
After a long break from premier league action, and time well spent training the home side were eager to get going. From the first whistle Lynn maintained possession well and were creating good goal scoring opportunities. After being patient and waiting for a clear cut chance to arrive, Lynn soon found themselves a goal to the good with Sam Kay finding the net with 8 minutes on the clock.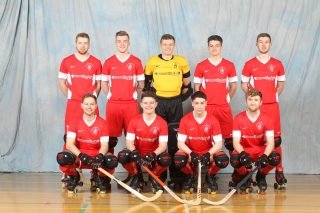 Following the goal, it was key for the home side to keep calm and composed and deny the visitors any chance of finding an equaliser. Sticking to the game plan, Lynn kept creating good chances only to be denied by an in form away goalkeeper. After a brief spell of losing their grip on the game the home side found themselves on the back foot slightly and as a result Will Martin (GK) was forced into making some challenging saves. Half time score 1-0 to Kings Lynn.
The second half began in opposite fashion the first with HBU seeing plenty of the ball. Now knowing they needed to find a goal the pressure began to mount on the home side. It wasn't long before a rare blip in the near faultless Lynn defence resulted in an equaliser being scored from a narrow angle.
Lynn soon picked themselves up and regrouped. Continuing to create goal scoring opportunities, the home side sensed a goal was coming. With 10 minutes left on the clock the breakthrough came. A perfectly timed pass found Matthew Baker at the far post to clinically finish an excellent move. Now was when Lynn's character was to shine through.
Shortly after the goal was scored, a penalty was awarded to the away side. On this occasion they forced a top save from the home goalkeeper and Lynn remained in the lead. Herne Bay United then re-adopted the plan they initially had at the start of the second half to press and get themselves an equaliser only this time they were to be denied. A well organised, solid defence who were willing to put themselves in front of anything were eventually rewarded when the final whistle came to confirm an excellent 2-1 win.
This was a huge win for Lynn who hadn't started the season in particularly good form. With a lot more roller hockey still to be played the team can now look forward to getting back in action in the new year.
Captain Vancouver Man of the Match: Matthew Baker.
The award was presented by sponsor Steve Harris from Samueljacks T-Shirt Shop, Lynn Rd, Gaywood
The Team:
Will Martin (GK), Matthew Baker, Ryan Barnes, Michael Carter, Josh Gay, Jamie Griffin, Sam Kay, Josh Taylor (C) & Jack Tucker