Premier League Match Report: 10th January 2015
Premier League Match Report: 10th January 2015
Club Santacruzense 3 – 14 King's Lynn RHC
The King's Lynn Premier league side took to the road for their opening game of the new year with Club Santacruzense, who play at Millwall football ground, where a small but grippy rink awaited.
The game started with a fast pace and both teams proving they could be a threat to each other after the first few exchanges. Both the teams beginning well considering the break which had just been taken over Christmas. The opening goal came from a clinical counter attack, with the ball being played through to leave a breakaway with Taylor coolly dispatching to give the away side an early lead inside five minutes.
Following the opening goal, both sides began to play a more possession based game. This resulted in less frantic play and gave both sides the chance to shine in different ways. With not much room to manoeuvre, shots seemed the way to go. A collision took Lynn's Ryan Barnes back onto the sub bench after receiving a skate in the head while his opposite number left the game with a leg injury. A few minutes passed which led to the home side finding their equaliser through a long shot which wasn't closed down by the Lynn defence, 1-1. Shortly after the goal, Santacruzense shortly found themselves down to three players, after a challenge off the ball. Jamie Griffin stepped up to take the direct free hit and clinically finished to restore Lynn's lead.
The game settled down after this point and Lynn began to gain control of the game. With some good moves and possession play Lynn grabbed a couple more goals before the break only for a single goal reply from Santacruzense.
Half time: Santacruzense 2 – 4 King's Lynn RHC
After the restart, Lynn had found a burst of energy. Inside the first five minutes of the second half the lead had increased to 8 – 2. The pick of the goals coming from Sam Kay after some neat play in the centre of the rink, a two on one occurred and no mistake was made with the finish.
Following the quick fire goals, the game never looked like being lost. However Lynn were hit by a brief spell of good play from the home side which resulted in a consolation goal being grabbed. Following a goal, a penalty was also given to the home side. An excellent save from Will Martin followed and the ball rebounded straight the opposite end where Lynn showed their clinical side once again and added to the score again. Some more good play from Lynn followed with a few more goals being well taken on the breakaway to take the final score to 14 – 3 to the away side.
The opening game of the new year was certainly a good one from Lynn who needed to take this form into the next day where they face RHC Invicta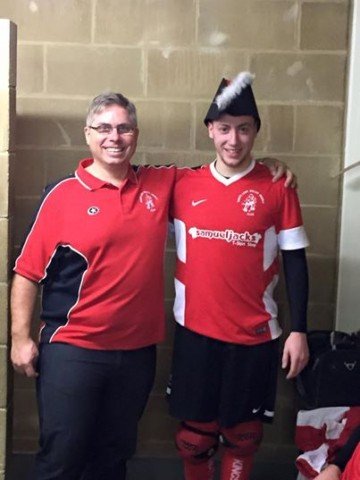 Goalscorers:
Sergio Hutson(1)

Sam Kay(2),

Jamie Griffin(4)

Josh Taylor (7)
Man of the Match:
The Team:
Daren Didcock (GK), Will Martin (GK)
Ryan Barnes, Michael Carter, Josh Gay, Jamie Griffin, Sergio Hutson, Sam Kay & Josh Taylor (C)
Coach:
Chris Kay