Premier League: London RHC v Kings Lynn RHC 18th November 2017
On Saturday 18th November, King's Lynn took to the road for their first away day of the 17/18 season to take on London RHC. London are a newly established club competing in only their second season of Premier League, but still have a team with lots of experience.
In the early stages of the game the hosts were in control, holding the ball and creating good goal scoring opportunities. Lynn were patient in defence and picked their moments to attack. After just under ten minutes of play, Lynn had their opening goal. Jack Tucker breaking down the line and delivering an inch perfect pass to Josh Taylor to finish. Shortly after, Taylor and Lynn had their second goal, this time coming from a breakaway. Just three minutes after the second goal, Jamie Griffin found space in the area to deflect a shot passed the watching London keeper to take Lynn into a three goal lead. Despite Lynn now dominating the play London grabbed a goal of their own with only minutes to play in the first half.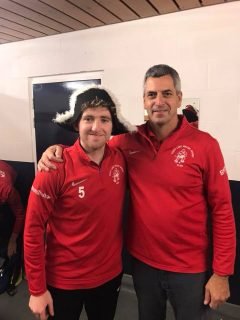 Half Time: London 1 – 3 Kings Lynn
Into the second half and Lynn were showing their class and notched up a couple of early goals. First coming through Michael Carter and shortly followed by Matt Baker to grab the first of his three goals. London replied instantly with a goal of their own from the penalty spot. Shortly after Jack Tucker slotted home from a narrow angle to restore the four goal lead. Lynn were now well into the swing of usual play and began to dominate in all areas of the game. Debutant Josh Horn made an impact from the bench and caused the hosts defensive issues in the final third to add to the Lynn domination. Tom Allander in the Lynn goal then faced his second penalty of the game only to deny London on this occasion. Lynn added four more goals to their tally with two goals each for Matt Baker and Josh Taylor. London did grab a couple of their own but by this time the game was beyond reach and Lynn took a well deserved three points.
With London being the unknown opposition this was an important and crucial three points on the road. Despite conceding five goals the clinical finishing in front of goal caused London issues from early on through to the final whistle.
Final Score: London 5 – 10 Kings Lynn
Captain Vancouver man of the match: Jack Tucker
Team on the Day:
Tom Allander(GK), Josh Roberts(GK), Matt Baker, Ryan Barnes, Michael Carter, Jamie Griffin, Josh Horn, Josh Taylor(C) & Jack Tucker
Coaches:
Michael Baker & Andy Horn
Many thanks to our sponsors SamuelJacks T-Shirt Shop and Carter Engineering Supplies who have kindly continued their sponsorship for the forthcoming season