EC Division 1 Match Report: 15th January 2017
EC Division 1 Match Report: 15th January 2017
Grimsby RHC Home Tournament
Kings Lynn RHC A team played their latest Division One tournament when Grimsby RHC  hosted their home tournament at Lynnsport. Kings Lynn played four games on the day against ECU, Grimsby, Cottenham and  Letchworth.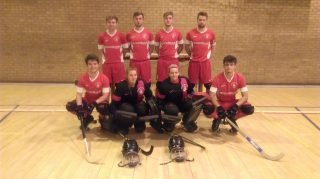 First game of the day was up against a young Ely & Chesterton United team. Despite the opposition being a young side and inexperienced they  couldn't be taken for granted. Lynn dominated the game on the possession front and the goals came after good build up play. Remaining strong in defence resulted in a clean sheet.
Final Score: ECU 0 – 7 Kings Lynn.
The next game was against fellow premier league side Grimsby RHC. Having played Grimsby over the course of the past few seasons Lynn knew this game wouldn't be straight forward. After getting off to a good start and taking an early lead, Lynn found themselves 2 – 1 down at half time. Into the second half with everything to play for and KL soon found their feet. Grabbing a couple of goals without reply took them back into the lead. However this wasn't to last as Grimsby pulled the game back to level terms shorty after. At this moment Lynn clicked and soon found themselves with two more goals on the scoreboard to take an important win.
Final Score:  Grimsby 3 – 5 Kings Lynn.
Cottenham were the next opponents for Lynn and playing against a much younger side Lynn dominated from start to finish. With the team enjoying most of the ball they soon found the net on a number of occasions and eventually ran out 11-1 winners.
Final Score:  Kings Lynn 11 – 1 Cottenham
Fourth and final game of the day was against Letchworth who had enjoyed a good day against all other opponents. Lynn knew this was going to be a difficult game from the outset and despite taking an early couple of goal lead they were pegged back going into half time level at 2 – 2. The second half was dominated by King's Lynn and the side soon gained control and took the game as 5 – 2 winners.
Final Score:  Letchworth 2 – 5 Kings Lynn.
Overall a solid day for the Kings Lynn side who have now taken seven wins from their first seven games and will be looking to continue this in their upcoming home tournament.

The Team: Kasia Parfitt(GK), Kathryn Baker(GK), Matt Baker, Ryan Barnes, Josh Gay, Jamie Griffin, Josh Taylor© and Jack Tucker.
Coach: Michael Baker