2016 KLRHC Camping Weekend
2016 KLRHC Camping Weekend at Hunstanton
We are going August Bank Holiday weekend:
Friday 26th
Saturday 27th
Sunday 28th
Monday 29th
We will be camping at Searles, Hunstanton.
To book a pitch, please ring Searles on 01485 534211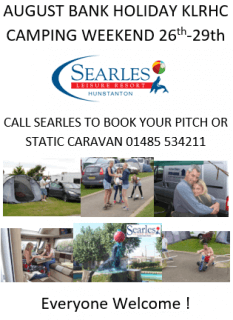 Each pitch takes Eight people so find some team friends and club together for a pitch.
Your pitch will also includes Free:
Hope to see you there.
The fundraisers