The 2009-10 Season Awards Winners
The 2009-10 Season Awards Winners:
Tonight saw the club present trophies, medals and presents to all players and club members who had been elected for all their work over the season.
Congratulations to all the winners
Awarded By The Club Committee
| | |
| --- | --- |
| Club Player Of The Year | Josh Taylor |
| Goalkeeper Of The Year | Will Martin |
| Andrew Salmons Memorial | Ric Parfitt |
| Service To Club | Margaret Taylor |
---
Voted For By The Team Players
| | |
| --- | --- |
| A Team's Player's Player | Elliot Branford |
| B Team's Player's Player | Jonathan Barnes |
| C Team's Player's Player | Jack Tucker |
| Schoolboys Team's Player's Player | Megan Kay |
| Inters A Team's Player's Player | Will Martin |
| Inters B Team's Player's Player | Olly Cox |
| Minors A Team's Player's Player | Megan Norris |
| Minors B Team's Player's Player | Kathryn Baker |
| U11's A Team's Player's Player | Matthew Baker |
| U11's B Team's Player's Player | Fergus Griggs |
---
Awarded By The Coaches
| | |
| --- | --- |
| MIP Senior | Ryan Barnes |
| MIP Junior | Daniel Howlett |
---
Awarded By The Team Co-Ordinators
| | |
| --- | --- |
| MVP A Team | Josh Taylor |
| MVP B Team | Dean Setchell |
| MVP C Team | Ryan Barnes |
| MVP Schoolboys Team | Megan Kay |
| MVP Inters A Team | Jack Tucker |
| MVP Inters B Team | Olly Cox |
| MVP Minors A Team | Harry Greeves |
| MVP Minors B Team | Ryan Shaw |
| MVP Under 11's A Team | Kathryn Baker |
| MVP Under 11's B Team | Finlay Griffin |
---
The 2009-10 Season Highlights:
 Eastern Counties Cup Finals
Well done to all our teams who took part in the Cup Finals this year.

Qualiftying for 4 Cup Final categories on the day, we came away with ALL 4 Cups.
U9's- Runners-Up

U11's – Winners

Minors – Winners

Intermediates – Winners

Senior 2 – Winners
Special mentions go to both teams playing in the Minors (U13's) & Seniors 2 finals for coming from behind in their matches to win in the last minute.
Special congratulations to the U9's team who played in a round robin tournament and came away with the Ivan Cook Runners Up trophy.
---
Unbeaten Champions 2009/10 Season
A fantastic performance from the Minors B team saw them finish the season as unbeaten League Champions.
Congratulations to the team for completing their season with an amazing 18 wins from 18 matches

A 100% Record for the season
Team Members:
1. Kathryn Baker
2. Zak Robinson
3. Owen Scott
4. Mathew Baker (Capt)
5. Owen Norris
6. Josh Horn (VC)
7. Harrison Sturgess
8. Bradley Ellis
9. Ryan Shaw
---
Dusseldorf 2010
Arriving in Dusseldorf 8pm Friday, Kings Lynn warmed up quickly & entered the rink at 8.30pm to play the home U17's team.
A tentative start saw Lynn take time to settle before taking command of the game, scoring freely they went on to win convincingly 11 – 1.
After a good night's sleep Lynn were first on Saturday morning against Recklinghausen.Lynn again controlled the game & comfortably led 4 – 1 with minutes to go despite the antics of the German team that included diving in the penalty box & feigning injury.
The new team foul rules do not seem to have been adopted in Germany as they have in this country as Recklinghausen became more physical & unsettled Lynn to pull the game back to within 1 goal, Lynn maintained possession in the face of increasingly aggressive tackling & ran out 4 – 3 winners.
The Lynn squad then took time out to visit the Rheine Tower in Dusseldorf & time along the river before returning for the evening's celebrations, watching Germany gain 3rd place in the World Cup which became a little hairy at times as some of our players decided to start cheering for Uruguay! After the football the squad then attended the home team's party which involved the players jumping clothed into a swimming pool!!!
Breakfast at 8.30am, Lynn left the hotel for their last game against Herringen, an U15's team that showed great promise.
Tactics were discussed & full rink pressure was applied for the first 5mins which led to a goal in 5 seconds. Further scores were added as Lynn played some impressive & entertaining hockey.
All players played & scored and despite the opposition showing flashes of good play. Lynn won 17 – 4.
Megan Kay who was over age for the Lynn team shared the duties in goal for the Dusseldorf ladies team in a tournament that ran alongside the U17's & in the ladies final she did not concede a goal but could not stop her team's 5 – 3 defeat.
Collecting the winners trophy, captain Josh Taylor also received the award for top goal scorer.
Coach Chris Kay said what an excellent weekend it had been for team building & an opportunity to make new friends.
Dusseldorf had been great hosts & the team's behaviour had been exemplary in representing their Club & Country.
The right mix of on & off rink activities had led to a weekend that will be remembered for a long time to come
Thanks must also go to team manager Jerry Barnes.
The Team:
Will Martin (GK)
Olly Cox
Jamie Griffin
Adam Tucker
Josh Taylor (Capt)
Ryan Barnes
Andrew Barnes
Jack Tucker
Kasia Parfitt(GK)
Megan Kay(GK)
---
French Tournament Trip
A depleted Senior team & Lynn's U11's, attended a tournament in Roubaix, France over the Easter weekend.
Saturday's Results
Senior
U11's
King's Lynn 5 – 3 RHC Invicta

King's Lynn 1 – 8 La Roche Sur Yon

Roubaix 4 – 3 King's Lynn

Sundays 0 – 2 King's Lynn

Sunday's Results
Senior
U11's
HC Castiglione 11 – 4 King's Lynn

CP Roubaix 16 – 8 King's Lynn

King's Lynn 6 – 0 HCF Tourcoing

King's Lynn 2 – 2 CP Roubaix

Monday's Results
Senior
U11's
Kings Lynn 2 – 1 HC Ottoruote
Kings Lynn 4 – 2 Roubaix
Seniors
King's Lynn placed 4th of 6, with French team La Roche Sur Yon 1st.
U11's
Lynn placed 2nd, Roubaix 1st
Awards
Kings Lynn U11's won Fair Play trophy
Kings Lynn seniors won Fair Play trophy
Sam Kay won tournament top goal scorer
A fantastic weekend for all involved especially the senior team who played all weekend with
1 outplayer substitute (Chris Kay) & all 4 outplayers played every minute of the Italian victory.
---
National Cup Finals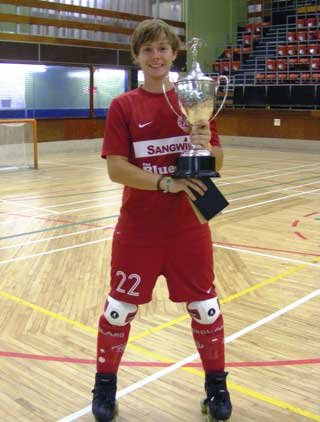 King's Lynn player Sam Kay, who since his return from playing in Portugal, has started University in Middlesbrough & transferred
to Middlesbrough roller hockey club. Middlesbrough who play in the top Premier League in England
attended the National cup finals at the weekend held in Herne Bay.
Middlesbrough, who had made it through to 2 finals with Sam playing in both, started the day against Peterborough in the Junior
(U20's) category. 2 quick goals from Sam imposed boro's authority as they went on for a 7 – 1 victory.
The top final of the day was the 'Blue Ribband' senior final. Boro faced up against home team Herne Bay Utd
who had narrowly pipped Boro to the league title with a 6 – 5 thrilling end of season game.
This time Middlesbrough had their revenge with a crushing 6 – 3 victory to take the prestigious cup.
---
Flying Out
Mark Jones a player with the club off & on for a long time is off to Afghanistan.
Everyone at the club would like to wish him the best.
Mark flies out to Kandahar airfield, Afghanistan on 11th December and will be based there for 10 weeks over Christmas and New Year.
"As a Mechanical Aircraft Technician working on Chinook helicopters I look after and fix anything mechanical, structural as well as engines on all the Chinooks we have out there, mainly at Kandahar but also at Camp Bastion (the British base in Helmand province).
This is my 2nd tour of Afghanistan so I already know what to expect, which isn't a suntan at this time of year like everyone seems to think!
It can be as cold as -10c at night and wet and miserable in the day…"
---
Bowled Over
Everybody at Kings Lynn Roller Hockey Club would like to wish the Clarke family all the best for their new life in Australia.
Andy Clarke was assistant goalkeeper coach at the club.
Sam Clarke played for Minors A & Inters A.
Matt Clarke played in the U11's & Minors B teams
They will all be missed very much & the club is a poorer one without them……..Good Luck.
Although sad to see them leave, we made sure they had a great send off with a party at Strikes Bowling.